Fortuna Vini is located in Follina in an area of great charm and beauty: the Prosecco Superiore DOCG hills of Conegliano Valdobbiadene, between the Prealpi Venete and the Piave river. This area is characterised by a particular soil conformation that makes it ideal for growing vines and producing high quality wines. A corner of paradise.
The Prosecco Superiore DOCG hills of Conegliano Valdobbiadene were declared a UNESCO World Heritage Site in 2019, thanks to their natural beauty and the thousand-year history of vine cultivation in these lands. The landscape is characterised by a series of hills that follow one another harmoniously, interspersed with woods, meadows and vineyards.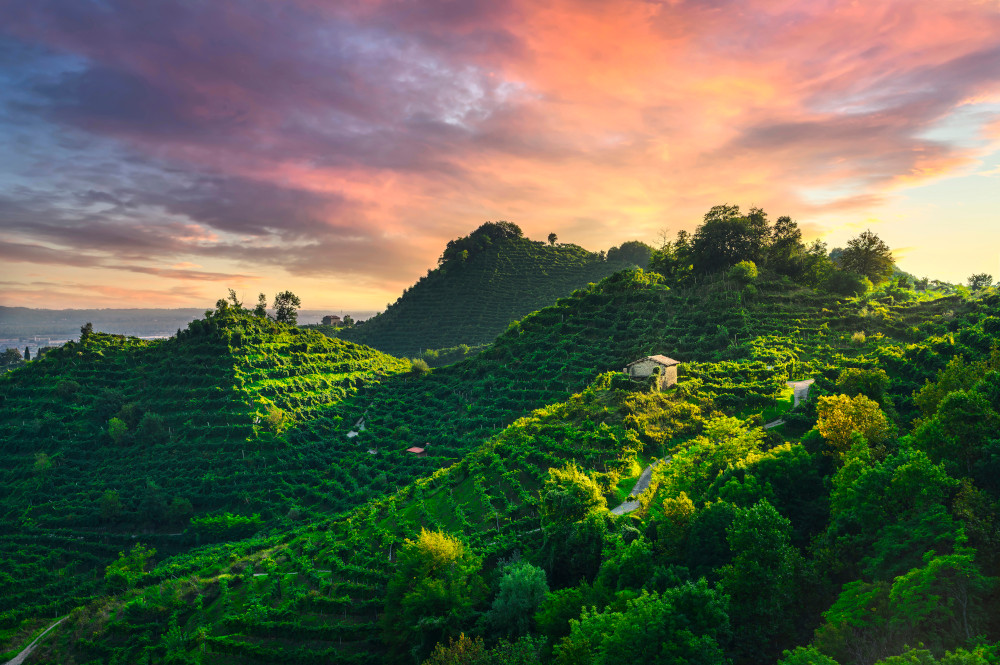 The Prosecco Superiore DOCG hills of Conegliano Valdobbiadene are an area rich in history and tradition, which is reflected in the area's culture and gastronomy. Numerous medieval villages and towns can be visited in this area, such as Follina, with its imposing Benedictine abbey, or Conegliano, with its evocative castle.
The Follina winery is located in a particularly scenic area, from which one can admire the surrounding hills and the breathtaking panorama that stretches as far as the Venetian Pre-Alps. The area is rich in trails and paths that wind through the vineyards, allowing you to discover on foot or by bicycle the secrets of the land and the cultivation of vines.
The winery's philosophy is to produce high quality wines while respecting tradition and the territory. The vines are cultivated with great care, using traditional techniques and methods, in order to obtain healthy, high-quality grapes.
Great attention is paid to modern winemaking equipment, which makes it possible to obtain wines of great balance and elegance. The fermentation process takes place in stainless steel tanks, where the must is kept at a controlled temperature to preserve the aroma and taste of the grapes as much as possible.
Fortuna Vini is open to the public for guided tours and tastings, where it is possible to learn more about the history and tradition of Prosecco Superiore DOCG from Conegliano Valdobbiadene. During the guided tour, visitors can discover the secrets of vine cultivation, winemaking and wine maturation, and taste the winery's fine wines.
In conclusion, the Prosecco winery in Follina is located in an area of great charm and beauty, which deserves to be discovered and appreciated. The Prosecco Superiore DOCG territory of Conegliano Valdobbiadene offers a wide variety of experiences, including tasting the fine local wines, discovering the culture and history of the area, gastronomy and nature.